VATSIM, Get Connected!
Here's a quick tour on how to do get the software set up, and get going. It really is extremely straightforward now.


In this class you will learn about:

What in the world is VATSIM?


Where to get the software


How to set it up


How to get ready to connect


How to connect to the network, and file a flight plan


Most agree that flying on VATSIM is one of the most rewarding parts of Airliner sim-flying. Once you are online, you can participate in the Scramble, UVA's weekly online event -- it is fast becoming one of the Premier events on VATSIM.

Flying on VATSIM when flying for UVA is not mandatory, but it sure is a lot of fun!


What is VATSIM?

For the Virtual Pilot, VATSIM is the best thing since sliced bread!


In the beginning virtual pilots were relegated to a lonely world, there was no one else to interect with. As the versions of Flight Simulator matured, artificial intelligence aircraft and sofware simulated ATC were added. But it was still just a simulation, you really were very much alone. Worse, the ATC provided was often hit & miss in terms of accuracy, and it would often steer you into danger.

All that changed with the introduction of Squawkbox, and more recently FSInn, both for use on the pilot side. You could now link into a world-wide network of not just pilots, but real. live air traffic controllers, many with real world experience. The ARTCC's and FIR's (regional ATC control areas) are run and managed just like in the real world, and procedures are as real as you can get.


Perhaps you are feeling that this is all too much for you, too complicated, too scary? Well, it isn't. Sure, there are some ground rules to learn, but parts of this primer will help get you up to speed. Further, you will find the controllers onlline pretty friendly and patient. As long as traffic is not heavy, ATC is generally happy to cater to new pilots, to give them a helping hand. After all, the new pilots of today, are the experienced pilots of tomorrow.

On VATSIM you are dealing with real people, you will no doubt find new friends, and you will find a rich and satisfying environment that will for certain improve your flying. You owe it to yourself to give it a try! We'll do everything we can to help you along.


As a UVA member, you already have a VATSIM ID and membership. VATSIM is just a click away. To learn more about VATSIM, see About VATSIM. The VATSIM Pilot Resource Center (PRC) contains easy to read information about VATSIM, pilot software & procedures and detailed step by step instructions. The UVA Primer will get you started, the VATSIM PRC is where you proceed next to grow your knowledge of online procedures.

Best of all, VATSIM is available to you at no cost!

How to get ready to connect

Programs used for FS2004/2002
Squawkbox v3.x - Requires FSUIPC

FSUIPC v3.x
FSINN - Alternate connect client, does not require FSUIPC

Programs used for FSX

FSINN - Alternate connect client, does not require FSUIPC


Squawkbox v3.x - Does not currently support FSX, an update is expected

ServInfo
VATSIM over Europe, is shown in the ServInfo screen capture at right. ServInfo is a fabulous standalone freeware program, gives you the full scoop on what is going on, on VATSIM. Who is flying and where, what ATC is running, real time weather reports, you can even listen in to all the VATSIM radio channels, regardless of whether you are logged in or not.
An indispensible tool,
Get ServInfo here
.
vRoute
Another standalone utility, a Jack of all Trades, provides not just VATSIM online ATC and pilot awareness, but also has extensive flight planning facilities. It was already discussed in the Flight Planning section. You can download this freeware application at
www.vroute.net
.
Setting up with FS2004/2002
1. Once you have downloaded the software, unzip the files to a temporary location.
2. Install Squawkbox or FSInn (you do not need both) as per the directions in their documentation. It is little more than two mouse clicks to complete.

3. If you are using Squawkbox, then optionally install FSUIPC.dll to the folder called "Modules" in the main FS2004 directory, overwriting the one already there. (C:\...\Flight Simulator 9\Modules) The Squawkbox install may do this for you, but it is generally best to update to the latest version of FSUIPC yourself.
4. You do not need to register FSUIPC to run it with Squawkbox v3.
When you have done this, you are ready to start up and connect to the network.
Setting up with FSX
1. At the time of this writing (May '07) Squawkbox does not support use with FSX. For FSX you need to download the alternate connect client, FSInn. Once you have downloaded the software, unzip the files to a temporary location.
2. Install FSInn as per the directions in the documentation. It is little more than two mouse clicks to complete.

When you have done this, you are ready to start up and connect to the network.
How to connect to the network & file a flight plan

Filing the flight plan
We start with setting our callsign. This is your unique UVA PID, not the flight number. If you have the PID UAL1234, then that is your callsign.

The steps are similar in Squawkbox and FSinn, below are outlined in the steps for Squawkbox for reference. There is a quick start guide for Squawkbox, together will full documentation available on the Squawbox site.

In brief, the process is quite simple, and is as follows:
1. Start up Flight Simulator.

2. Select the FS menu, select Modules, and then select Squawkbox to start it. Squawkbox can also be run separately on another computer using WideFS.

3. Click on the Start button and select Connect.


It is required that you use your UAL PID as the callsign for a UVA flight. I have shown this dialog as it appears in SB3, highlighted with a green ellipse below. Do NOT use the flight number as the callsign.



It is required that you use your domicile ICAO code when you are flying a UVA flight. Only possibilites here are KDEN, KDCA, KJFK, KLAX, KORD, KSEA, KSFO.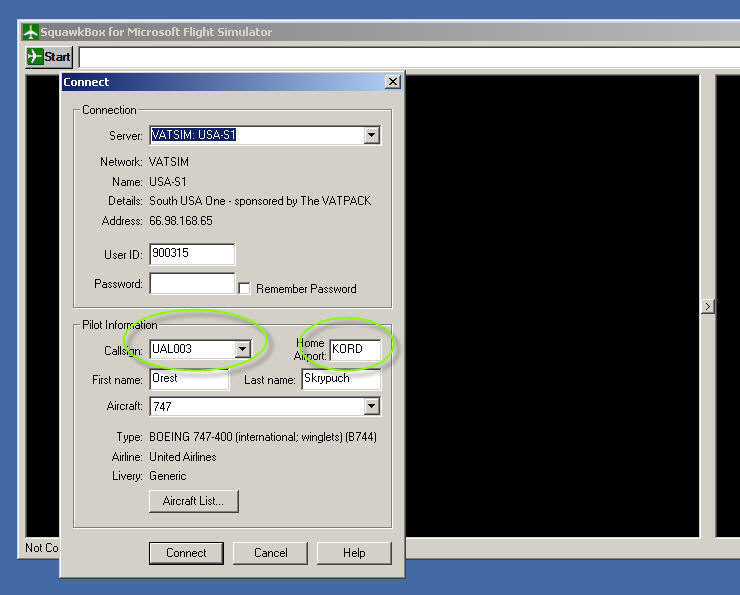 Next, we file the flight plan. Bring up the flight plan dialog from the start button.


It is required that you place the website location (united-virtual.com) in the comments lines of the flightplan, shown in the red ellipse.


The UVA flight number may be placed somewhere in the comments section of the flightplan, also shown in the red ellipse below, it must

not

be used as the callsign.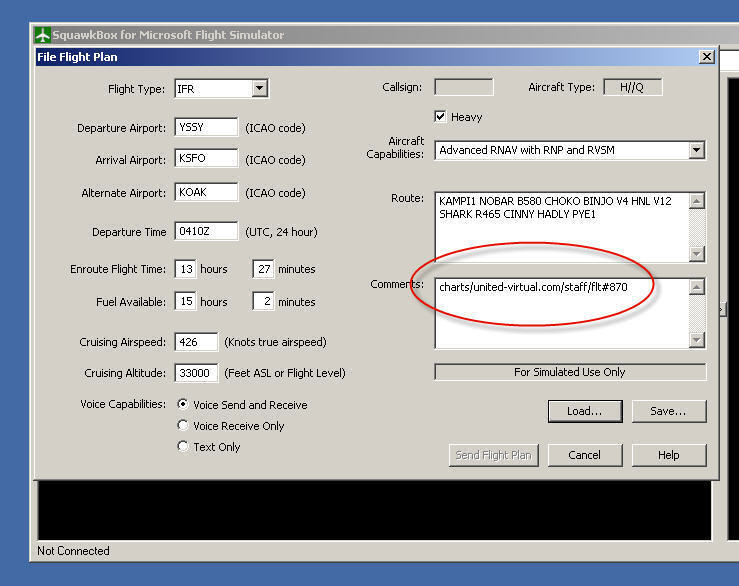 Flight type - VFR/IFR/SVFR: All UVA flights must be flown IFR (Instrument Flight Rules)


Departure - ICAO airport code

Arrival - ICAO airport code

Alternate (if required)


Departure Time (in UTC or Zulu time)

Enroute Flight Time & Fuel Available

True Airspeed - Your calculated cruise speed in true airspeed. In the RW ATC will assume you will fly within 10 knts of this speed enroute.

Cruising Altitude

Voice Capabilites - All ATC is now voice capable. If you don't have a microphone, do yourself a favor and get one, it doesn't have to be anything fancy. It will dramatically improve your experience, and will make it easier for ATC and other pilots online to stay orientated.


Callsign & Aircraft type is auto-filled

Heavy - Select if flying a 767 or larger aircraft. Although it generates turbulence warnings, a 757-200 is not a heavy.


Finally the routing and the comments, as noted above.
After these fields have been filled in, click "Send Flight Plan"



You are now ready to go!